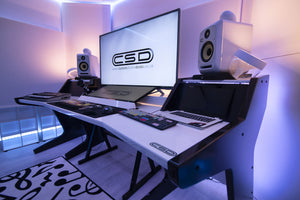 CUSTOM STUDIO DESKS
With over 30 years experience in carpentry and finishing techniques combined with a lifelong passion for DJ'ing and music production Custom Studio Desks was born from a demand for very high quality but affordable studio furniture.
A studio is a place where you will spend an incredible amount of time as a music producer and as such it should be a place where you can have great workflow and comfort to really enjoy your studio time.
At Custom Studio Desks we design and manufacture high quality studio desks to a flawless finish.
We can design and work with you to your individual requirements and specifications to achieve your preferred desk layout, size and finish we can paint your desk in virtually any colour you choose including metallics and high gloss.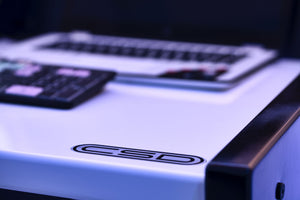 What our customers think
I ordered a CSD202 with an extended centre section. Excellent customer service from Lee  it arrived promptly, well packaged and straight forward to put together. One of the best companies I've dealt with for studio equipment and i'd definitely recommend to anyone needing a studio desk. Thanks a lot really pleased.

Luke Franks
Lee was happy to customise my desk exactly as required. Excellent communication throughout , great price and most importantly a great desk.

Gavin Mathers
I'm absolutely in love with my new desk the build quality is awesome and the finish on the desk is absolutely stunning. Lee was a pleasure to deal with and very polite, i cant recommend his services enough. Top job CSD!

Phillip John Lloyd
Absolutely over the moon with my desk.  Id had a good look round on numerous websites and all of the desks were ridiculously expensive and not to my specifications. Lee built me this beast of a desk and had it on my doorstep within a week! I also asked to have it slightly longer and with extra shelving underneath the racks for my hard drives and power adapters which Lee was happy to sort for me. Anyone after a desk i would 100% recommend Custom Studio Desks. The finish is lovely, the price is good ,its built like a tank and i'm sure i'm going to get plenty of years use out of it. Thanks very much!

Josh Van Riel
Amazing desk. Flawless finish, incredibly sturdy, easy to assemble, looks stunning. Probably the best packed product on delivery i have ever received. I would highly recommend this desk to anyone looking at purchasing a studio desk.

Alex Postance